Title:
Thursday's Child
Author:
strangeandcharm

Reader:
alchemynerd

Genre, Pairings: Supernatural (Dean/Castiel)
Rating: NC-17
Summary: Thursday's child has far to go.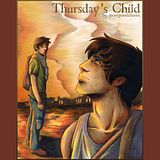 The beautiful cover art is by

Reader's Note: While this is not the first podfic I've posted, it is in truth, the first one I started working on (several months ago), so please excuse the differences in audio quality. The oldest recordings are actually chapters 7 and 8 (earlier chapters may have been re-recorded due to horrible quality *cough, cough*). My thanks to the author,
strangeandcharm
,

for her permission and enthusiasm to record this story, and to
crinklysolution
for beta-ing these 12 hours! Also, this is my first attempt at producing an m4b podbook, so please let me know if there are any problems with the file.
I hope you enjoy!


Download Links (megaupload):

mp3:
Part 1
[251 mb, 6:24:12];
Part 2
[223 mb, 5:41:56]
m4b podbook:
Single File
[331 mb, 12:06:08]


Points: 5+3+(116)+(1+3)+0 = 128